Madness at Sotheby's on June 14, 2011 ? Who is bidder 48 ?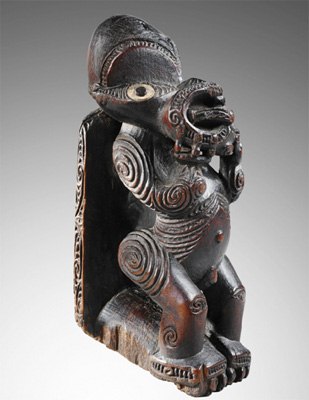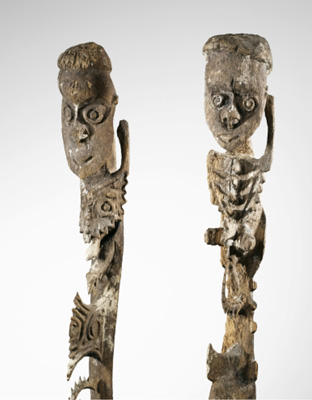 Lots 11, 14, 19, 20
On June 14, the crowd of usual suspects and collectors from all over the world gather at Sotheby's Paris, Galerie Charpentier. Quickly the room is packed. Today's sale is devoted first to 10 lots of African art from Pierre and Léonce Guere, followed by oceanic art, then african art again. Although I am not an African art collector, I am looking with interest what is going to happen. Some objects are superb or have legendary provenance. Very strong prices are being realized, and I notice that one bidder on the phone, the bidder 48 seemed to be particularly aggressive. Getting the superb and hieratic Fang figure from 1.4 to 2.25 millions (lot 5), the kota figure (lot 6) against a Belgium dealer at 170 000 euros but also bidding up to 200 000 euros for a Baulé pulley.

The oceanic session starts with a small top quality Maori object (lot 10). A rare artefact depicting a small Northern New Zealand Moko on figure attached to a digging stick. Quickly the bidding is taking place between a well know dealer specialized in African art and someone on the phone, and the price skyrocket to 1.1 millions euros. Almost 10 times the high estimate. We are already in shock. Prices are more reasonable after for the Hei Tiki, or a rather late wood post figure sold at the reserve lot 13. In their publication "Polynesian art at auction 1965-1980, Mack and Nasser were reporting it as being of "a late manufacture" but "probably made for Maori use rather than for sale to Europeans." Sold for 3450 USD in 1975 in Sotheby's London, it sold for the reserve at 20 000 euros. On the other hand, the following lot (14) was an exquisite Maori figure post from a chief's house, probable the best one we have seen on the market for years. Extraordinary presence. Once again, we had a battle between the French dealer who was fighting for lot 10 and the bidder 48, up to 790 000 euros. The kind of money in the game is different from what we, the average oceanic art collector are talking about. Nevertheless, this one seemed to be a good deal after all… The next battle took place for the New Georgia canoe prow (lot 17), Salomon islands. 150 000 – 250 000 euros was seeming to be a rather high end estimate, but the hammer went down at 1.3 millions, for again, bidder 48. On the last row, back to the wall, we are rising eye brows, exchanging impression. It seems that we are on another planet. We are merely spectators, paddle in hands, impossible to do anything. We are only at lot 17, but the auction has been going on for 45 minutes already !
From Melanesia, my favourite was the pair of Korewori figures (lot 19). I met them the first time at John Friede's residence and got impressed by the almost naturalist faces and sublime balance for these exceedingly old figures. At the time John had told me that they both had been dated by C14 to XVI's century (information not in the sotheby's catalogue). Derived age was the same for both carving, which is not surprising given the fact that it would be hard to believe they are not by the same hand ! Master pieces of the Ewa people, this primordial ancestral couple has been crossing the centuries from Enya Caves to Rye and now Sotheby's Paris. My first impression was that I preferred to see them with other treasures in Rye than being now exposed to the fury of an auction. However, they will shortly go back to a shrine with a collector who will well look after them, after bidding 150 000 euros. Now we are arriving to this king size stone pestle. His former owner, Wayne Heathcote, defended it up to 200 000 euros. Then the biding continued on the phone, one represented by Patrick Caput and bidder 48. At 1 million Caput did put the phone down quite brutally, it was over. We could not believe it..
For any single important artefact, there has been a strong battle. Most objects with low estimates also obtained strong results, like the chambri lake mask (25) from Friede, the superb shield (24 also from Friede). Probably the best deal of the day was the James Hooper Austral Island Paddle (28). Sold for 1000 USD in 1980, it fetched 4000 euros. We will shortly find it in Rue des Beaux arts…

At Christies, there were three Marquesas stilt step but the best one on the market was the sotheby's one. Starting low, it took off to 95 000 euros, again for bidder 48. One friend who tried to get it looked at me in dispear, shaked his head. "What can we do ?" The same bidder against Wayne Heathcote also won the exceedingly rare Marquesas drum.
Let me stress here that the less appealing objects, like the canak mask lot 33, or the rather late Maori post (13) rightfully did not attract attention, and either sold for low or did not sell. The average Marquesas earing did not sell. We decided to call it a day, and went back to give our paddles. There is no need to follow the rest of the sales devoted to minor aborigines artifacts and african art, whereas there is a need to seat on a terrace in the sun with a glass of white wine.

Conclusions : Incredible prices have been obtained. 10 time the (already rather high) estimates for a number of objects, Whaooo ! Does it mean that the objects we own in our private collections of oceanic art are now worth 10 times more ? It would be insane to think so. What we saw was a very aggressive bidder, the bidder 48 spending at least 7 million euros in 1 hour, breaking all the record prices and basically influencing massively the sale.
In the past, John Friede also drove the market up with his very high bids on top quality artefacts. Being a well focussed collector, it was not really a surprise to see on which objects he was bidding. For instance, I remember the Torres strait drum at Christie's in 2006 when Tim Teuten, pretending to be on the phone with a bidder, went up to 800 000 euros on his behalf, while John was seated in the room apparently looking innocent.

Here it is different. In hour, the same bidder got, at least, a Fang Byeri (lot 5), a Kota (lot 6), a pulley (lot 10), two Maori carvings (lot 11 and 14), a salomon Island fish (lot 16), a nguzunguzu figure (lot 17), a stone pestle from highlands (lot 20), a pair of Papuan Gulf figures (lot 22), a stilt step (lot 30) a Marquesas drum (lot 32). It is quite an eclectic taste! This bidder indeed had chosen top quality but his determination was amazing. Take the Maori artefacts for example, he bidded hard on the two excellent ones (11 and 14) and ignored the less appealing ones (12 and 13) that went at the reserve. There was little left for the crowd and battle were fierce for the remaining artefacts!
Sotheby's has clearly established a niche, for top end quality oceanic artefacts to be sold to a handful collectors at extraordinary prices. Times are hard for normal oceanic art collectors, unless of course you have Cook collected artefacts, or top end pre contact object with very strong provenance in your living room…

Is it Madness ? I would say the real madness was to bid up to 800 000 euros on this "unique" (indeed, no one has ever seen anything like that before, fortunately) Polynesian figure at Christies. Concerning Sotheby's, I would say that there is at least one guy with a budget light years away from us, fighting some of his "colleagues".
Jean-Philippe Beaulieu.